Backpacker's Hostel in Hiroshima (since July, 2012)
Near Hiroshima Station. Room Rate : 2,400 yen~.
Contact Information / Map
10-minute walk from Hiroshima Station & the terminal of street cars and buses.
Guest House Lappy is
a backpackers hostel
nearby Hiroshima Station.
View
Guest House Lappy
in a larger map
From Hiroshima Station by walk is 10mins.
From the North Exit of Hiroshima Station, walk to Futaba Avenue. Cross the road so that you are on the opposite side of the station. Turn right, and keep walking along Futaba Avenue until you reach an intersection with 7-11 across the road. 
If you find The traffic signal "若草町東=Wakakusacho-higashi", there is a three-pronged fork in the road - one road going left, a middle road going straight (with a pedestrian traffic light and crossing leading to this road), and the other road on the right leading to Futaba Avenue. Take the middle road and keep walking straight for around 300 meters until you see Guest House Lappy on your left.
Accessible by shinakansen, JR railway, bus and street cars through Hiroshima Station.
Location:
10-minute walk from Hiroshima Station & the terminal of street cars and buses
Easy access to downtown, sight-seeing spots, Hiroshima Memorial Park, Hiroshima Castle, Miyajima island and others
Located in the neighborhood of many historical temples and shrines related to the feudal lords from the Kamakura period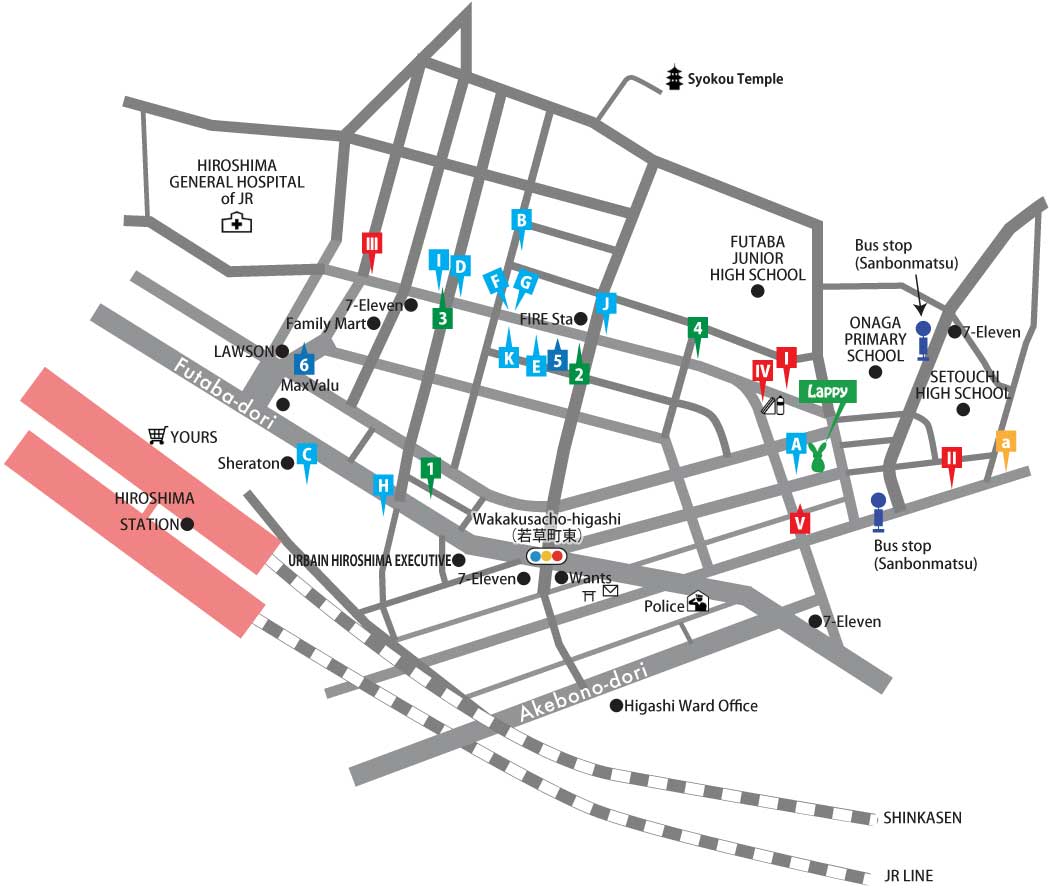 OKONOMIYAKI

1

OKONOMIYAKI RESTAURANT DAIMYO

2

ICCHAN HONTEN

3

OKONOMIYAKI DAICHAN

4

MASARU OKONOMIYAKI TEPPANYAKI
SUSHI

5

SUSHI-KEN HIKARIMACHI TEN

6

SUSHI-TEI HIKARIMACHI TEN
DINING / IZAKAYA

A

FUKUMI (DINING)

B

YAKITORI KOGARA

C

HAKATA-BUAISO BETTEI HIROSHIMAEKI-KITAGUCHI

D

SAKANA ICHIBA HIKARIMACHI TEN

E

Cafe HELsEA (ITALIAN)

F

YAMATORA

G

CHANKO AKINOKUNI HIKARIMACHI TEN

H

INDIAN RESTAURANT ROOPARI

I

UDON SANUKIYA HIKARIMACHI TEN

J

NIKUDOKORO YAKIYAKITEI

K

CHINESE RESTAURANT KAWANAMI (SHIRUNASHI-TANTANMEN)
TAKE OUT SHOP

a

AJISAI (LANCHBOX,DELICATESSEN,TENPURA)
Etc.

Ⅰ

NEO CITY HIKARIMACHI (COIN LAUNDRY)

Ⅱ

SANBONMATSUYU (BATHHOUSE)

Ⅲ

WANTS HIKARIMACHI TEN (DRUG STORE)

Ⅳ

LAWSON (24H CONVENIENCE STORE)

Ⅴ

LIVRE WAKAKUSA (COIN LAUNDRY)